Have You Recently Set Up A Business? Are You In The Early Stages Of Growth?
Are you busy running your own business and finding it a juggling act trying to fit marketing into the mix? Do you have an amazing vision for your business, but no time to plan out how to get there? We totally understand! So, we developed an online solution which makes marketing planning really straightforward and will empower you to start generating results in no time!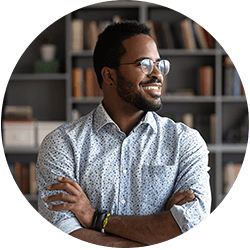 Channel Your Passion With A Great Marketing Plan
Entrepreneurship is all about the next idea and making it happen. The skills involved in running a startup are varied and it is not always easy to be a master in all disciplines. We know marketing is the glue in a business that brings all the other areas of the business together to drive commercial success, so we created a solution that enables entrepreneurs to fly and realise their dreams.
Often people talk about wearing different hats as a way to describe the way an entrepreneur needs to operate; we want to make your marketing hat an enjoyable and successful one.
We know that on a daily basis, running a startup, you can be faced with operational, financial and personnel issues and they are constantly watching the future and want to keep bringing ideas to life.
The challenges faced by startups are extensive but the passion they have is unquestionable. We know it is vital that there is a solid solution for marketing planning which enables you to move forward with the pace and energy you need to be successful and see your vision become a reality.
Are You Trying To Juggle Marketing
With Running Your Business?
Are you trying to find time for marketing your business whilst spinning many other plates? Research shows us that many people think they are "doing marketing" because they are perhaps posting on social media or have worked hard to launch a great website and establish fruitful business networks. Did you realise that marketing is about so much more than this?
Wouldn't it be amazing if someone could bring together the many different facets of marketing with a simple yet robust framework and let you know in one visual what you are missing and why? What if we told you we can do all this and more?
Welcome To My Marketing Button!

Get Started In No Time
With Our Online Marketing Planning Solution
Book A Demo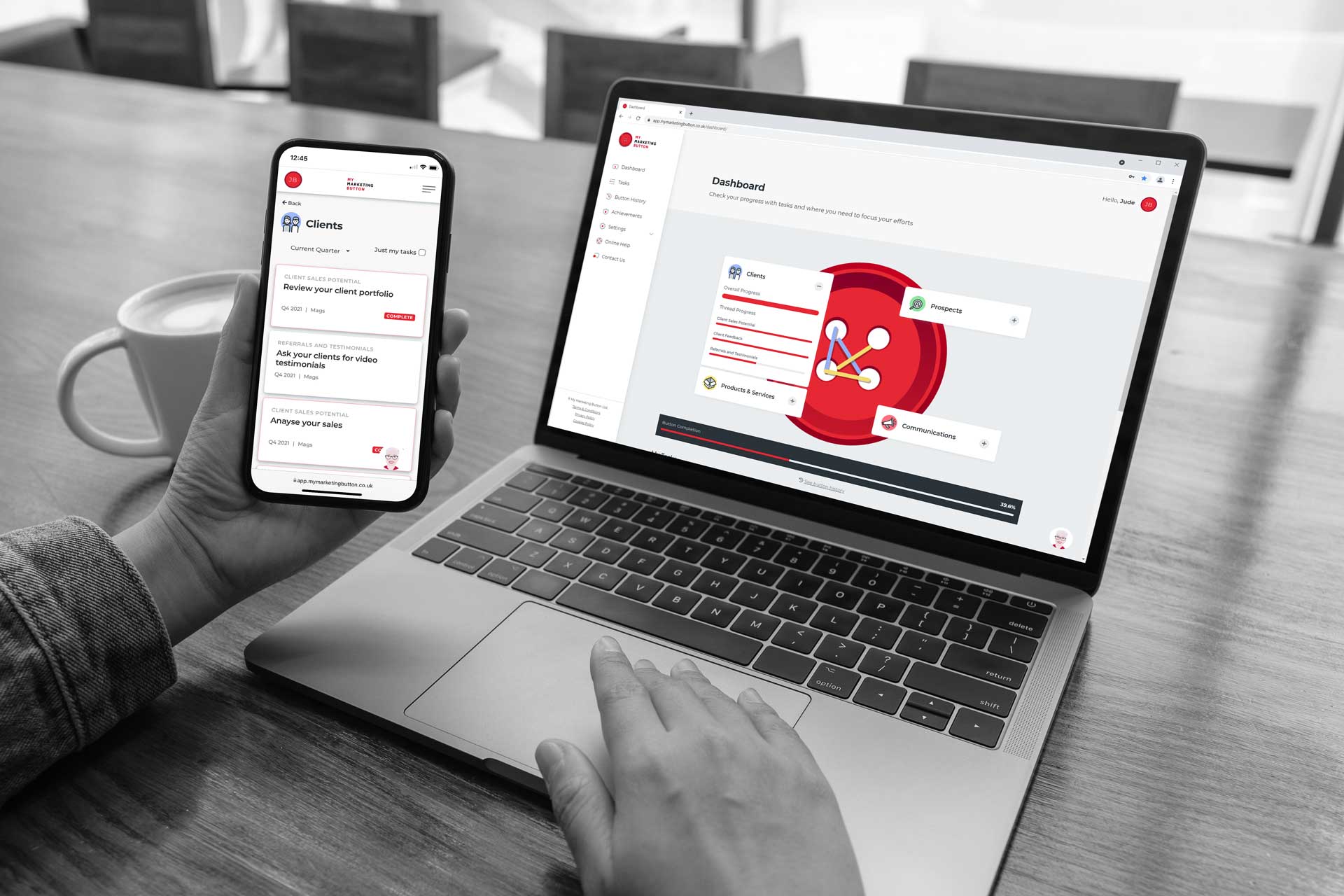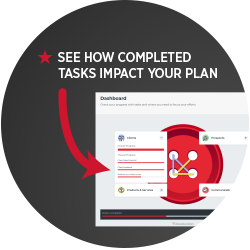 Quickly Identify Where You Are Spending Your Time And What You Need To Work On Next
One eye-catching visual captures all the activity done so far this quarter

Quickly identify which of the 12 essential elements of marketing you are doing well and what you might be missing

Button History shows how this quarter is looking compared to previous quarters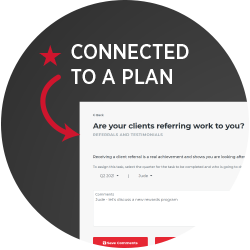 Save Time By Using Our Ideas
Connected To Your Plan
Wow! My Marketing Button includes categorised ideas for effective marketing activity, each populated with expert advice

Invite team members (in-house or outsourced) to collaborate on activities and the implementation of your plan

Understand WHY specific tasks will benefit your business
When Should I Invest To Maximise The Potential
of My Marketing Button?
Our online platform for marketing planning has been designed specifically for startup businesses like yours and we have purposefully made it quick and easy to get started.
Whether your business goals are to launch a new product or service, grow your business, get your brand known in the market place or something else, My Marketing Button can help. Why not book a demo to find out how?
Our Pricing
Try this exciting new platform for free for 7 days and create a marketing plan in minutes! See how it motivates, supports, coordinates and drives results.

With the free trial you have access to limited features to show you the potential of our platform.
Explore the full framework, create an amazing marketing plan and engage your team in some great marketing activities. Our most flexible package, with a one-month rolling contract.

This works out at £480 per year.
Sign up for one year and save money! Take a more strategic approach to your marketing planning and achieve your goals.

Wow! At £360 per year you can save £120 on the Pay Monthly contract.
Most Cost Effective
Our best value package! Support your business with a longer term, sustainable marketing plan that drives your commercial success. Benefit from no price increase in 3 years!

Get this offer now at only £300 per year 😀
Overcome Challenges and Fuel Your Passion
Devise A Solid Plan In Minutes
Use our robust marketing framework to generate a great plan. You can quickly check progress in one visual, and collaborate with your team.
Get Ideas, Tips and Advice From Marketing Experts
My Marketing Button contains over 100 tasks to choose from, each categorised into the area of marketing you need to focus on.
Get The Results You Need
Make the best use of time and money, knowing you have an effective marketing plan in place. Quickly identify the areas you need to focus on next.
Book A Demo
We would love to meet you and to have the opportunity to demonstrate what My Marketing Button can do for your startup business. Please use our Calendly booking widget below to schedule an online demo at a time which works for you. Alternatively you can email us at  [email protected]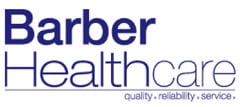 As a manufacturing business operating in a fast moving environment, we were keen to look at ways of streamlining our marketing so we could easily add new products to our portfolio and efficiently reach new markets. The process offered by My Marketing Button gave us a new way to approach how we planned our activity. The methodology is easy to follow and really captures the main elements of marketing for us that allow us to increase our level of activity and track results. It has proved to be a robust and sustainable way for us to look ahead
James Barber, Commercial Director
Barber Healthcare
Ensure Well Defined Products And Services
Are Underpinning Your Future Success
For most Entrepreneurs, Products & Services are a key area of your marketing plan which need to be well defined and worked out. This ensures that all your outgoing communications are on point with clear messaging and a consistent tone of voice. Creative, consistent communications and clear processes will help drive your business forward.
Why not capitalise on our proven methodology for marketing planning and explore how to do this
and more by booking a 1:1 demo today?